Down Memory Lane: Local People
The name Myshall "Midh Íseal" means 'low plain' and the village also gives its name to the towns land and parish. The buildings which were prominent when the village was planned in the 17th century are now domestic residences, shops and bars but retain their charm of former days.


Peter Fenelon Collier, revolutionised publishing in America


Dr. Joseph G. Byrne, educational benefactor


Martin Carroll, blacksmith 1939


John O'Neill, bonesetter (grandfather of Danny)


"The Whistlers Of Garryhill", Garryhill Flageolet Band - circa 1950


Myshall Muintir na Tíre group in 1954


Thomas McDonald, All-Ireland Ploughing Champion in the 1960's


Myshall I.C.A. Guild members in 1973


Myshall I.C.A. "Carlow Federation Frolics" winners in 1975



Patsy McLean won the World Sheep Judging competition in 1976


Macra na Feírme All-Ireland Sheep Shearing Committee in 1978


I.C.A. competitors with coaches and musicians in the late 70's


1980 Junior Scór participants that reached the All-Ireland Final


1980 Scór All-Ireland Finalists, (L-R): Tom Byrne, Richie Kavanagh, Jim Nolan, Nell Murphy, Tom Donoghue, Seamus Lalor.


Set Dancing


Ian Rea, first Lord Mayor of Myshall


Myshall Community Games with Olympic swimmer Gary O'Toole


August 1996: Andrew Jordan, Myshall pointing out to Fr. O'Shea
the old wall which was outside the Girl's School years ago


September 1996: Near the Village Pump on a lovely evening -
Bertie Ahern, Fr. O'Shea and a group of children from the area


Former Taoiseach Bertie Ahern with sponsored draw launch


John Tracey (far right) meeting President Mary McAleese


Young Entrepreneurs in All-Ireland Final 2002


Health Centre opening in Myshall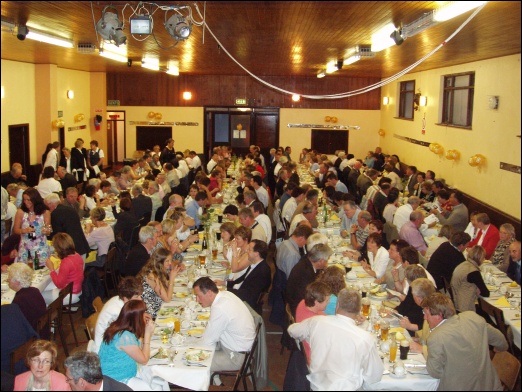 Celebrating Myshall N.S. School Reunion 2005 in the Community Centre


December 2006: Welcome night for new residents in the Community Centre